DigVentures is an archaeology crowdfunding platform that went from an idea in 2012 to having created and nurtures a sustainable and booming community of supporters and followers. By keeping their supporters motivated through different engagement opportunities, their financing model allows cross-selling of services (archaeology experiences) and replication in order to fund new excavation projects. In this way the sustainability of the platform and the community itself is ensured. Read more about the DigVentures case, see what you can apply to make your project more successful.
Successful use of crowdfunding in the cultural and creative sector from an archaeology platform 
Are you a great dancer looking to fund a performance? Is your hobby pottery, and you want to start teaching it to refugees in your city? Do you want to set up an online store for affordable art from a global network of evolving artists? Hopefully these tips from DigVentures will help you.  

 
DigVentures reacted to, on one hand, deminishing funding for excavations and government support for archeology. While on the other hand, members of society wanting to get involved in local projects and be part of several communities. 
 
DigVentures wanted to harness the power of the crowd to help them with funding of excavations, to staff some of their digs and to gather an engaged crowd. The innitial interest was substantial and the supporters stayed involved (with a lot of active work from the DigVenture team).  
 
The team realised that to have a sustainable financing model and to fully utilise their crowd, they had to move from having supporters, to having a community. In 2014, with the help of the Heritage Lottery Fund, they did just that. 
 
"The most important thing about crowdfunding 
isn't the money: it's the crowd. An interested, 
engaged audience is worth its weight in gold to 
any organisation. Have a plan for your crowd, 
and focus on building successful relationships. 
They will stay with you into the future." 
Lisa Westcott Wilkins, Co-founder and
Managing Director of DigVentures 
Build a new model of operating (and funding) around your community
A lot of hype has been built up around crowdfunding as a solution to new economic realities in the culture sector, but its important to be realistic. Crowdfunding simply does not have the capacity to be the silver bullet of your funding issues.  
 
Crowdfunding should be used as part of your financing mix. A successful campaign can get you started with seed money, in order to show that the project works and that people like it (proof of concept). By crowdfunding you also gather a crowd of interested supporters to nurture and keep. 
The whole aim is to create and nurture a community of engaged people, who not only believe that your concept works, are passionate about your project, but most importantly are engaged on a regular basis.
Once you have a community you can apply a long term sustainable funding model that: uses the proof of concept and the community to get other sources of funding (remember crowfunding is only a small part of your funding mix), cross sell products & experiences to generate revenue and finally replicate your success with new projects.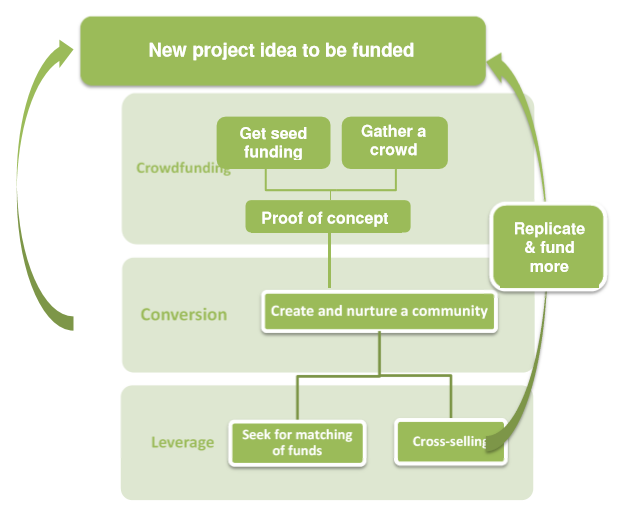 …and have fun
This might sound obvious, but if you are having fun, it shows and is contagious. Besides passion and interesing projects, people look for lightness, freshness and yes…entertainment. Don't be afraid the share your enthusiasm and to make people smile, give everyone a reason to come back to your website, perhaps tell a story that people can share with their friends at a dinner party.
At DigVentures, Fergus the Site Dog is a full part of the team (a mascot dog with his own twitter account!) He brings smiles and apparently quite a few people turn up at events and dig sites especially wanting to meet Fergus.